Welcome to March Comes in Like a Lion Wiki, a mediawiki-based encyclopedia dedicated to everything about Chica Umino's masterpiece manga March Comes in Like a Lion (3月のライオン Sangatsu no Raion). We are striving to be the most known encyclopedia that covers information about the franchise. We are trying to become a more informative encyclopedia to support fans globally.
We are more than happy that you can join us with reaching our main goal. You can start by creating an account and help out instantly. Please help us by creating or editing any of our articles!
Synopsis
Rei is a 17-year-old professional shōgi player who lives by himself. He is estranged from his family and has scarcely any friends. Among his acquaintances is a family which consists of a young woman—Akari Kawamoto—and her younger sisters—Hinata and Momo—who also keep several cats. As the story progresses, Rei deals with his maturing as a player and as a person, while developing his relationships with others, especially the Kawamoto sisters.
Featured Article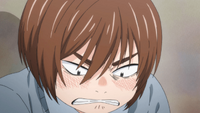 ---
Harunobu Nikaidou is a man that Rei has known since childhood due to frequent meet-ups at youth shogi tournaments, and is the closest thing Rei can call a childhood friend.
(more...)
Contribute
Please help us!
There's a lot of content to cover for this wiki, so please, if you feel at all helpful, why not help us build this up into a decent resource!
---
---
To create a new article, simply enter the article title in the box below: